HELLO MARCH!
  which brings with it, of course......
more winter! 
But.........  Finally!  We can see it.  We can feel it; although brief.  Warm sunshine and a wee bit of extra light outside as we settle in for the evening news. March has been described as  "a tomboy with tossed hair, a mischievous smile, mud on her shoes and a laugh in her voice."  Will March come in like a lion and out like a lamb?  Your guess is as good as mine.  We could experience bizarre winter weather or be teased with warmer days. Yet, there remains plenty of winter activities to enjoy.  In the midst of winter's rigid, frigid splendor, the mountains and countryside of Vermont offer great skiing, snowmobiling, snowshoeing, x-country skiing, ice skating, sleigh rides, tubing, fat tire biking, sledding and ice fishing. You've just gotta love this time of year when winter winds whistle through leafless limbs and bright moonlight is reflected by white snow in our fields, woods and marshes.  Yes, it's now March which also brings us:
March 6 - Purim is a two day festive Jewish holiday that commemorates the deliverance of the Jewish people in the ancient Persian Empire from destruction.
March 8 - Holi, also called The Festival of Colors, is the most vibrant of all Hindu festivals and marks the end of winter in India and welcomes spring.
March 8 - International Women's Day - sponsored by the UN, its roots began in the late 1800's. A global holiday celebrated annually to commemorate the cultural, political and socio economic achievements of women. 
March 12 - We go back on Daylight Savings Time 
March 15 - "Beware of the Ides of March", a warning given to Julius Caesar by a soothsayer, before he was stabbed by Brutus in 44 BC.  Also the first day of spring in the Roman calendar.  There are also several superstitious beliefs surrounding its origins.  But Ides simply marks the first day of the full moon in every month, typically falling between the 13th and 15th.
March 17 - St. Patrick's Day is in honor of the Patron Saint of Ireland who brought Christianity to the Emerald Isles. 
March 20 - Spring Vernal Equinox brings equal proportions of 12 hours of daylight and 12 hours of nighttime marking the first day of spring.
March 22 - Marks the first day of Ramadan and is the time of fasting, worship and renewal of family ties.  Fasting lasts the entire month and Muslims cannot eat during daylight hours.  Fasting is done to show devotion to God.  The last day of Ramadan ends with the sighting of the moon on April 20.
March 25 - Christians celebrate the Feast of the Annunciation which is when the Archangel Gabriel came to Mary of Nazareth and told her that nine months later she would bear the Son of God, Jesus Christ, on Christmas Day, December 25.
Possibly the best thing about March is that on the 12th we go back on Daylight Savings Time!   So......there you have it for March and when you visit, come prepared for whatever the snow gods decide. Hope you enjoy these special days of celebration and my bit of trivia...
 Just remember...it's all good.  
Have you ever experienced natural beauty from the basket of a hot-air balloon?  Lift-off from the inn's backyard and gently soar above and then gracefully descend into the bottom of the Quechee Gorge.  How about an easy snowshoe hike to the summit of Mt. Tom where you will enjoy the expansive and scenic overlook?  Visit our quaint towns;  each one displaying their unique personalities.  Shop for that special treasure in our country stores.  Chat with our friendly villagers.  Or simply kick back, enjoy a glass of your favorite beverage and relax at our beautiful inn.  Here you will have a front-row seat should a hot-air balloon lift-off or land (and this happens quite frequently)...  
Actually, all four seasons in Vermont are glorious in their own right and Vermonter's are used to sharing every season with thousands of visitors from around the world.   There are many ways to enjoy the beauty of this state: take a scenic drive along our picturesque back roads, visit our quaint towns, shop in our unique country stores, chat with our friendly villagers.  Or snowshoe our mountain trails, ice skate, ski, toboggan, snowmobile.  But whatever your preferences may be and no matter which road you travel, you will witness year-round spectacular scenery!
If you missed a visit in 2022 be sure to visit us in 2023!
There are many reasons to visit Vermont anytime and we can't list them all...but here are a few -
Reason #10 Harvest Markets - Vermont has more farmers markets per capita than any other state
Reason #9 Worlds Best Cheddar - Vermont has more cheesemakers per capita than any other state
Reason #8 Good Beer - Vermont has more microbreweries per capita than any other state
Reason #7 Views - Our views go on forever
Reason #6 Scenery - No billboards allowed
Reason #5 Meditative - A place for reflective moments
Reason #4 Peaceful - Because (according to the song) it's "Moonlight in Vermont"
Reason #3 Picturesque - White steeples rise from churches, surrounded by quaint villages and towns
Reason #2 World-Class Photo Opportunities - Vermont has more than 100 covered bridges
Reason #1 It's All About the Trees - Three quarters of Vermont is forested. The other quarter is just as beautiful 
Come visit and enjoy the beauty of springtime in the Quechee-Woodstock area. Life is good. Everyone and everything is electric!
Listed below are several noteworthy happenings in Quechee, Woodstock and Surrounding Areas
"FLY LIKE AN EAGLE"
(1976 Artist The Steve Miller Band, Composer Steve Miller)
A BACKYARD LIFT-OFF WITH BALLOONS OF VERMONT
With the Gorge located directly behind our property, it provides the ultimate location for a spectacular flight. Under the supervision of our pilot, Darrek, ground spectators and passengers helped inflate the envelope (fabric). Once fully inflated with passengers on-board, spectators watched in amazement as the massive balloon gracefully ascended and floated sky-bound. The balloon soared above the Gorge and then slowly descended to its bottom. Darrek maneuvered the basket onto large, boulders as the crystal clear river trickled underneath. It then popped up and continued its journey over ponds, fields, pastures, finally setting down near the ski trails at Killington Mountain. The chase crew arrived soon thereafter and passengers enjoyed a "celebration" with pilot and crew. All were treated to delicious hors d'oeuvres and their choice of champagne or sparkling cider, followed by the Balloonist's Prayer. Recommendation: put this thrilling experience on the top of your bucket-list - you'll be talking about this and reliving memories for a long, long time...and remember, our pilot flies year round - yes, even in winter!
"SHE THINKS MY TRACTOR'S SEXY"
( 1999 Artist Kenny Chesney, Composed by Jim Collins and Paul Overstreet)
Gateway To Vermont's Rural Heritage
Billings Farm Billings Farm & Museum is just a scenic stroll from the village center of Woodstock, Vermont , and is regarded as one of the finest outdoor history museums in the country. Combining a fully-operating Jersey dairy farm with educational exhibits and interactive programs and events , Billings Farm & Museum is committed to providing education and enjoyment to visitors of all ages. From meeting our award-winning Jersey dairy cows , draft horses , and sheep , to exploring the carefully restored 1890 Farm House , sampling Billings Farm cheddar , and taking part in hands-on activities, there really is something for everyone.
Billings Farm History
Billings Farm was established in by Frederick Billings, a native Vermonter known for his work as a lawyer, railroad builder, and pioneer in scientific farm management and reforestation. Billings set out to make his 270-acre farm a model dairy operation for farmers in the region, founded on the principles of efficiency, sustainability, and responsible land use.
In 1884 Frederick Billings hired George Aitken, an innovative and successful professional farm manager to oversee his Woodstock operation. Aitken imported cows from the Isle of Jersey, hundreds of Southdown sheep, Berkshire hogs, and other livestock. By 1890, the year that Frederick Billings died, the Billings Farm had grown to nearly 1,000 acres and was widely acknowledged for the superior genetics of its premier Jersey herd as well as an extensive butter-making operation that produced 5,000 pounds of high-quality butter annually. Three years later, at the World's Columbian Exposition in Chicago, cows from the Billings herd took top honors in the dairy division, with Lily Garfield designated "Champion Heifer of the World."
The herd's performance in Chicago was the victorious culmination of Billings Farm's early years. Following George Aitken's sudden death in 1910, the farm experienced several periods of change, including a successful commercial dairy operation beginning in the 1948. In the mid-1970s, the farm resumed breeding championship-caliber Jersey cows. A string of regional show winnings throughout the 1970s and '80s culminated when Billings Top Rosanne won top honors in both American and Canadian competitions, designating her the finest Jersey in North America.
Owned and operated by The Woodstock Foundation, Inc. , a non-profit educational institution founded by Laurence and Mary Rockefeller in 1968, the Billings Farm & Museum was established in 1983 to preserve the historic Billings Farm as well as the character and heritage of rural Vermont.
"TRAVELIN' MAN"
(1961 Artist Ricky Nelson, Composer Jerry Fuller)
OTHER NOTABLES TO CHECK OUT
Plymouth Cheese in Plymouth, Simon Pearce Glass in Windsor, Silver Lake and the Barnard General Store in Barnard, Quechee Gorge Village in Quechee, Saint-Gaudens Gardens and National Historical Park in Cornish, NH, The Vermont Country Store in Weston, VT, Shop the numerous retail outlets in Manchester, VT, Rock of Ages Granite Quarry in Graniteville VT, Ben & Jerry's in Waterbury, Route 100 the most scenic road in Vermont, Lake Willoughby in Westmore, Cabot Cheese in Cabot and Quechee, More than 100 Covered Bridges, Calvin Coolidge State Historic Park in Plymouth, Vermont Spirits in Quechee Gorge Village, Harpoon Brewery and the Silo Distillery in Windsor, Shelburne Farms in Shelburne, Wilson Castle in Proctor, Morgan Horse Farm in Middlebury, Visit the Top Ten Vermont Waterfalls, Visit the Trapp Family Lodge and drive the "Notch" Smugglers Notch Road in Stowe, Swim in Lake St. Catherine in Poultney, Drive to the summit of Mt. Equinox in Manchester, Hike Camel's Hump in Duxbury/Huntington, Bike along the Burlington Bike Path, Take a day cruise on Lake Champlain (keep your eyes open for "Champ", the legendary Lake Monster, possibly a giant Garfish or extinct Tanystropheus}, Visit the Cold Hollow Cider Mill in Waterbury, Visit the Lincoln Family Home "Hildene" in Manchester, Some of the best mountain biking is found on the Kingdom Trails in East Burke - and if you still have some time and the energy, don't forget to visit some of our great maple sugaring farms....ENJOY!
Daisy, Daisy give me your answer true. I'm half crazy all for the love of you. It won't be a stylish marriage. I can't afford a carriage.
But you'll look sweet upon the seat of a "BICYCLE BUILT FOR TWO"
(1963 Artist Nat King Cole, Composed by Harry Dacre in 1892)
Fat Tire Biking is a year round activity
Equipped with wide tires, the low pressure allows them to float on surfaces, like snow, where a normal bike would sink. With the fat tire bike you can ride a wider range of terrain - from snow covered groomed trails to muddy river crossings or even paved roads. Interested in trying it? Be prepared for a challenging workout that will test both your balance and core strength. Here in Woodstock, the Woodstock Inn offers these bike rentals and groomed trails on Mt. Peg. Open daily from 9 am to 4pm through April 1st. Try this biking adventure anytime of year
"FROSTY THE SNOWMAN" was a jolly, happy soul with a corncob pipe and a button nose and two eyes made out of coal...
(1950 Gene Autry, Composer Walter Rollins, Steve Nelson)
WINTER STORM HARPER IN 2019
During the 2019 winter storm, Harper, the weather channel's meteorologist, Jim Cantore, spent two days with us here in Woodstock. Jim is originally from our area and along with his brother, owns our best local pizza restaurant; named, of course, Cantore's. It was obvious that Jim holds a special place in his heart for our beautiful town. His camera man followed him to several places in Woodstock while Jim shared some of his fondest boyhood memories for all local Weather Channel viewers to enjoy.
Our resident hot-air balloon pilot, Darrek, is not only an excellent pilot but also a clown at heart. It didn't take Darrek long to figure out that a visit to Woodstock and Jim would be just the thing to do during the snowy weather. Never owning up to an ounce of shyness, Darrek drove into Woodstock and introduced himself to Jim and the two became "buds" - just gotta love our local boys.....
Sleigh bells ring. Are you listening? In the lane snow is glistening.
A beautiful sight, we're happy tonight, walking in a
"WINTER WONDERLAND"
(1958 Artist Johnny Mathis, Composer 1934 Richard B. Smith)
All of Vermont = Serious Skiing, X-Country Skiing, Snowshoeing, Ice Fishing, Ice Skating, Dog-Sledding, Horse-drawn Sleigh Rides, Over 5000 miles of Snowmobiling Trails!
COME EXPERIENCE A THRILLING WINTER ADVENTURE IN 2023 - It's a special time to be in Vermont. With 20 alpine ski resorts, 30 cross-country touring centers and 7,300 acres of alpine terrain . Even if you don't ski or ride, there's plenty to do to keep the family together and having fun.is a perfect substitute for enjoying the outdoors while getting in a good work-out. that meets your needs. For you thrill seekers, try . For those that are new to this recreational form of transportation, there is nothing like the adrenaline you get from maneuvering a 600-pound machine through turns, around trees, and over the terrain. is another hot activity during the cold months. Fishing over frozen bodies of water gives the angler a unique advantage of fishing off-shore without a boat. With many of Vermont's waters season, the choices are abundant. If winter is not your favorite season for being outside, that's ok. You're not alone. Add some warmth to your winter with music, theater, and dance or treat yourself at one of Vermont's . You deserve this.
No matter which activity you choose to take part in this winter, warm your soul and clear your thoughts by connecting with the natural world around you in Vermont. Can't decide what to choose? Give us a call or send us an email and we'll help you plan for next year 2023.  Call or email us at 802-295-0606 or innatclearwaterpond@gmail.com 
AND - HERE ARE SOME VERMONT "OFF-THE-BEATEN PATH" SKI AREAS
Bolton Valley - Cochran's Ski Area - Mad River Glen - Middlebury Snow Bowl - Northeast Slopes - Bromley Mountain - Magic Mountain Ski Area - Suicide Six
COME ON IT'S LOVELY WEATHER FOR A "SLEIGH RIDE" TOGETHER WITH YOU
(1948 Artist Arthur Fiedler and the Boston Pops, Composer Leroy Anderson)
Winter At The Farm - Billings Farm - Woodstock, Vermont - 2023
Visit the farmhouse and the dairy farm for interactive programs. Don't miss a winter visit to the farm Horse-drawn sleigh or Wagon rides 69 Old River Road, Woodstock Sleigh rides also available Sugarbush Farm
"FRIENDS IN LOW PLACES"
(1990 Artist Garth Brooks, Composers Dewayne Blackwell and Earl Bud Lee)
KILLINGTON BREWERS FESTIVAL - WINTER OF 2023
Enjoy exclusive beers created in collaboration by our Vermont brewers. Over 100 beers offered with 30 exclusive brews created for this festival. Embrace the elements with this all outdoor winter themed festival at the base area of Bear Mountain at Killington Resort.
Sit by the fire pits with the brewers who host this event while enjoying the option of a 3, 6, or 9 oz sample of beer. For the last 25 years, the Association has been running a successful event on the waterfront in Burlington, VT. Now, there is a second event in the picturesque town of Killington
"SUGAR, SUGAR"
(1969 Artist The Archies, Composer Andy Kim, Jeff Barry)
SUGARING TIME IN VERMONT 2023
When nights are cold and days are warm, producers across the state know that sugaring season is upon us. Vermont is the nation's leading producer of maple syrup and generates 47 percent of the country's maple syrup. Sounds like a lot for such a small state but keep in mind that it is coming from more than 1,500 sugar-houses statewide. Vermont's sugar makers will welcome you in March 2023. Our inn makes our own maple sugar and it's for sale in our gift shop. There are two sugar makers close to our inn - Sugarbush Farm and the King Farm Syrup - it's in our roots!
"SLOOP JOHN B"
(1966 Artist The Beach Boys, Composer Brian Wilson)
THE 49th ANNUAL BRIDGEWATER VERMONT RAFT RACE - APRIL 2023
Earth-shaking BOOMS from three cannons sent costumed competitors on a mad dash towards the river and onto their themed, decorative rafts. And, so began the 48th Annual Bridgewater Raft Race. Above the river, spectators lined the bridge, then slowly made their way down the road, following these creative and colorful rafts. For decades this popular Bridgewater race has been the traditional kick-off to spring. All rafts must be handmade and self-propelled.
The waters of the Ottaquechee River are still icy this time of year but the gutsy rafters don't seem to mind. Their goal is to finish first! The race course sends these rafters on a three-mile journey as spectators cheer them on. Some rafts, lacking enough seaworthiness, fall apart and even sink. This brings on even more whooping and hollering from the crowds. Come join us in 2023!
"TAKE IT ON THE RUN"
(1981 Artist REO Speedwagon, Composer Gary Richrath)
Road To The Pogue Race - May 13, 2023 
The best place in the world to go for a run. The Road to the Pogue is a 6.1 mile running race on the carriage trails of Mt. Tom in Woodstock, Vermont, on the grounds of the Marsh Billings Rockefeller National Historical Park. The rolling terrain, beautiful vistas and soft footing make the Road to the Pogue a favorite among local runners. Due to the narrow trails, the field is limited to 500 runners.  As a result, the event has an intimate feel.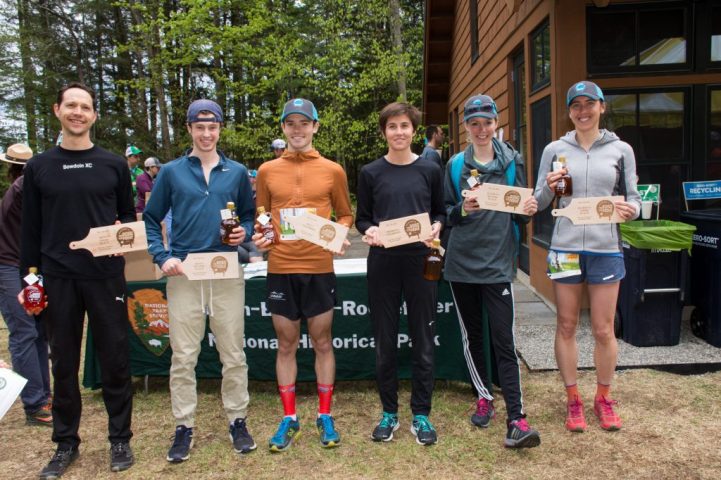 https://www.raceentry.com/road-to-the-pogue/race-information
6.1 mile Trail Run
This is a scenic run through the grounds of the Marsh-Billings-Rockefeller National Historical Park offering rolling terrain and beautiful views.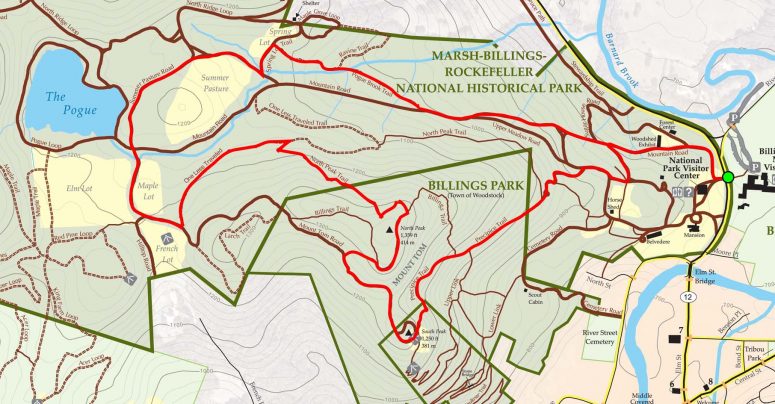 "ONLY IN AMERICA"
(2001 Artists Brooks & Dunn, Composers Brooks & Dunn, Don Cook, Ronnie Rogers)
Memorial Day Weekend
Come visit Quechee and Woodstock for the annual
Memorial Day Weekend Celebration 2023
Sidewalk Sale Days - Friday and Saturday - 9 to 5 pm, with Live Music
Woodstock Garden Club Plant Sale Saturday 8-1pm
Woodstock's Memorial Day Weekend Parade Saturday at 10:30 brings fun and excitement for the whole family
"BORN TO RUN"
(1975 Artist and Composer Bruce Springsteen)
The 31st Annual Covered Bridges Half-Marathon - The Best 13.1 Miles in New England - will take place in June 2023.
Congratulations to Matthew Phipps of White River Junction, VT for finishing #1 in 1:10 in our 2022 race!
The Inn hosted 5 runners for the June 5, 2022 race! 
Carolyn McGee of Alexandria, VA - Finishing #1300 in 2:29 
George Rhein of Queensbury, NY - Finishing #1065 in 2:17 
Liz Rhein of Queensbury, NY - Finishing #780 in 2:08 
Robert Mueller of Natick, MA - Finishing #1063 in 2:17 
Kevin Sylvia of Bellingham, MA (for some reason I could not locate his race results)
Our spectacular and very scenic Vermont countryside gives rise to a beautiful course. Beginning at the Suicide Six Ski Area in South Pomfret, a quaint, picturesque village just north of nearby Woodstock, the race takes runners eastward on a point-to-point course through open farmlands along the Ottauquechee River toward the finish line in Quechee. Runners enjoy the scenic, pastoral beauty of rural Vermont's covered bridges in what race organizers call the state's premier half marathon. This marathon unfolds through and/or past four of the state's famed covered bridges. Along the way, the course takes runners through Promfret, Woodstock and Taftsville, past the tranquil Dewey's Pond, ending up at the Quechee Polo Field.
Runners experience an overall elevation change of about 200 feet, as the race starts at 740 feet above sea level and gradually declines throughout the race toward the finish, including a mild hill around mile 5 and a steep hill around the 8-mile marker. Along the way, spectators hoot and holler. And much to the delight of the runners, many of our locals sing and play instruments as runners pass by. Our Vermont communities are extremely supportive and encouraging. This is a great day, not only for runners but all onlookers, as well.  Due to the COVID virus, the 2020 and the 2021 races were postponed. The 2023 race will begin at Suicide Six Ski Area in Pomfret Vermont and end at the Polo Field in Quechee.  Whether you're a runner or spectator, don't miss out on 2023!
"GO YOUR OWN WAY"
(1976 Artist Fleetwood Mac, Composer Lindsey Buckingham)
DARTMOUTH GRADUATION JUNE 2023 HANOVER, NEW HAMPSHIRE
Our congratulations to the class of 2022!
And to the future 2023 Graduates, please let your families, relatives, friends know that it's important for them to reserve local accommodations and local dining reservations as soon as possible!
"UP, UP AND AWAY..."
(1967 Artist The 5th Dimension, Composer Jimmy Webb)
THE 43rd ANNUAL QUECHEE HOT AIR BALLOON FESTIVAL FATHERS' DAY WEEKEND JUNE 16 - 18, 2023
Once again, the skies over Quechee and the Upper Valley of Vermont and New Hampshire will be ablaze with colorful hot air balloons, ushering in the 2023 annual Quechee Hot Air Balloon, Craft & Music Festival, the longest running hot air balloon festival in New England. Our festival grounds will welcome many, many guests, some who travel great distances to attend. All will enjoy continuous music and entertainment for all ages and over 60 craft artisans and commercial vendors. There are activities for children and of course, festival food with local healthy options, a beer and wine garden and much more.
The Inn at Clearwater Pond backs up to the Quechee Gorge. All balloon pilots navigate towards the gorge. And when air currents cooperate, they fly over and descend into the gorge - truly a spectacular flight! We are located only 1-1/2 miles from the festival grounds. If you missed this fun weekend in past years, be sure to mark your calendars for June 2023. And remember - this fun and very colorful weekend takes place here in Quechee every year. We suggest you book as soon as possible as we fill up quickly. If you have questions, please email or give us a call. 802-295-0606 innatclearwaterpond@gmail.com
"THANK YOU FOR THE MUSIC"
(1977 Artist ABBA, Composer Benny Andersson, Bjorn Ulvaeus)
The Vermont Symphony Will Visit South Pomfret, Vermont the Fourth of July Weekend 2023
Tickets can be purchased online at VSO.org.  Pack up your camping chair and enjoy the rousing Vermont Symphony Orchestra in 2023.  Gates open at 5:30 pm Suicide Six Ski Area, South Pomfret
"BORN IN THE USA"
(1982 Artist and Composer Bruce Springsteen)
QUECHEE AND WOODSTOCK 4TH OF JULY CELEBRATIONS 2023
Fireworks display at the field behind Woodstock High School - picnic on the lawn and enjoy a great show at 9 pm. As summer heats up, revel in patriotic events throughout Woodstock. From traditional fireworks shows and BBQ's to historic activities and games, come see how Woodstock celebrates Independence Day.
A traditional Billings Farm July 4th guarantees fun for all ages! Join us for a patriotic family celebration featuring wagon rides, sack races, flag making, historic speeches and debates, the reading of the Declaration of Independence at noon, and a rousing game of base ball.
Fireworks also over the Connecticut River at Kilowatt Park in Wilder.  The Quechee Club hosts a Family 4th of July Celebration as well with a spectacular fireworks display over Lake Pinneo.  Come stay with us in 2023 and enjoy all these displays of celebration!
THE LONELY NIGHT DISCLOSES JUST A PASSING BREEZE FILLED WITH MEMORIES OF THE GOLDEN SMILE THAT INTRODUCED ME TO
"THE DAYS OF WINE AND ROSES" AND YOU
(1962 Artist Andy Williams, Composer Henry Mancini)
KILLINGTON WINE FESTIVAL JULY 2023
This festival has earned a reputation for being one of the Killington region's signature summer events!
The 2023 Wine Festival celebration will include the following: A month-long celebration of wine with in store sales for the entirety of July. A carefully curate selection of wines from Farrell Distributors will be available for purchase at selected retailers with a portion of proceeds going to support the KPAA. Wine tasting options for participating restaurants and a fully comprehensive Wine Trail coordinated with our distribution partners, Farrell and Baker Distributors A Wine & Nine golf tournament hosted by Killington Golf Course
A silent auction with gifts and donations from our participating members 350 gift bags to be distributed by Killington Road wine retailers with purchase of supporting wine Wine Trail, Participating Killington Region Restaurants Support local restaurants by participating in the 23rd annual Killington Wine Trail! Restaurants will offer food and wine pairings, tasting dinners and other fun wine specials. The Killington Wine Festival theme for 2023 is still undecided.  We'll keep you updated. Participating restaurants will be announced soon!
Wine and Nine Golf Tournament, Killington Golf Course A Killington Wine Festival favorite is back again this year: Wine & Nine, a special golf tournament at the Killington Golf Course. Registration kicks off any time after 1:30 with a 3 PM start. Play 9 holes of golf with friends, taste specialty wines and enjoy small bites from local restaurants at select holes, and then join us for prizes in the clubhouse and a delicious dinner provided by Killington Golf Course. Tournament Info Entry Fee Early bird by June 1st: $100 per individual After June 1st : $125 per individual Teams of Five (Captain and Crew) Includes 9 holes, cart, dinner, wine, snacks at select holes Reserve your accommodations now at the Inn at Clearwater Pond in Quechee, just a few minutes east of Woodstock
"SWEET SOUL MUSIC"
(1967 Artist and Composer Arthur Conley)
MUSIC IN THE MOUNTAINS VIRTUAL - CLASSICAL CONCERT SERIES June - July 2023
For 37 years, internationally renowned musicians have performed in the Music in the Mountains, a chamber music series with the beauty of the Green Mountains as a backdrop. These distinguished artists also spend the summer at Killington teaching and mentoring young musicians who perform in the Young Artist Concerts Series.
"GREEN GREEN GRASS OF HOME"
(1965 Artist Porter Wagoner, Composer Claude "Curly" Putman)
ANTIQUE TRACTOR DAYS IN WOODSTOCK VERMONT - August 2023
Tractors made between the 1920s and the 1970s will be displayed from 10:00 A.M. -4:00 P.M., by the proud and talented folks who restored them. The tractor parade at 1 P.M. includes restoration details and historical information. Tractor-drawn wagon rides and tractor activities for families.
NEW: Pedal tractor pulls for kids! Location - Billings Farm, 69 Old River Road, Woodstock - 802-457-2355
"BOOGIE SHOES"
(1975 Artist KC and the Sunshine Band, Composers Harry Wayne Casey and Richard Finch)
Woodstock Sidewalk Sale Days Friday and Saturday August 2023
Enjoy two days of Music, Great Food and Great Bargains in the center of Woodstock Village - Below is the list of our fine local vendors:
Pizza Chef - Howlin Good Kettle Corn - Ana's Empanadas - Vermont Farmstead Cheese - The Prince and The Pauper - Mettawee Valley Maple - Jeezum Crow Smoked Foods - Sunny side Taqueria - Silo - Mangalitsa - StJ Distillery - Wild Hart Distillery - Killington Distillery - Ono Woodstock - Knotty Coffee - Shambhala Farm - Billings Farm - Sustainable Woodstock - Woodstock Wheels - Artistree - Woodstock Rotary - Vista Senior Living - Ottaquechee Health Foundation - Red Moon Artisans - Laura White Pottery - Kit Mead / Cricket Cottage - Blake Hill Preserves - Paint of One Lemon-Alice Sterling - Olive Table - Patrick Michael Shanley Photography - Sum Sun VT - Hector Santos - Artistree - Eat More Pie - Green Mountain Publications/ Monica Decarlosage
SHOULD OLD ACQUAINTANCE BE FORGOT AND NEVER BROUGHT TO MIND. WE'LL TAKE A CUP O'KINDNESS YET AND DAYS OF "AULD LANG SYNE"
(1788 a Scots Poem by Robert Burns, Recorded 1890 by Emile Berliner)
2023 Scottish Festival and Competition - August 26, 2023
The festival will take place August 26th at the Quechee Polo Field (only 3 miles from the Inn at Clearwater Pond) Activities and Events include Open Stone Throw (similar to the Shot Put) - Caber Toss - Sheaf Toss - Weight Over The Bar - Pipe Band - Solo Piping - Solo Drumming - Highland Dance - Scottish/Celtic Vendors - Clan Village - Sheepdog Trials - Food Vendors and a Beer and Wine Tent Be sure to mark your calendars for August 2022 - this is an entertaining and fun event! OK - so about the song itself.... Historians call it "the song that nobody knows." And yet, we've all tried to sing it... The Scottish poem, written by Robert Burns in the 1700s, translates to "old long since" and means "times gone by". At the end of each year we find ourselves singing the song while drinking champagne and finding someone to kiss. As you watch the ball drop from Times Square in New York City you will probably start out singing strong 'Should auld acquaintance be forgot' and then just end up mumbling for the next solid minute. You won't be alone.... Here's the thing, "Auld Lang Syne," wasn't really supposed to be associated with New Years.
Bandleader Guy Lombardo is credited with popularizing the song and making it a New Year's tradition. Lombardo heard the song as a youth in his hometown of London, Ontario and over the years it became a signature of his famous band – Guy Lombardo and His Royal Canadians. They played the song at midnight on New Year's at the Roosevelt Hotel in New York City in 1929 and every year since where they held the slot at the "Roosevelt Grill" from 1929-1959. They went on to perform the tune at the Waldorf Astoria on New Year's Eve from 1966-1976.
Auld Lang Syne became an American tradition but is generally known as one of the most popular songs where nobody knows the lyrics or anything about the Auld Lang Syne meaning. But again about that Auld Lang Syne meaning? In a nutshell, "Auld Lang Syne," is basically about remembering friends from the past.
When good people come and go in your life, it is worth it to take a moment of time, raise a glass and remember those that should never be forgotten
"THE BIRDS AND THE BEES"
(1965 Artist Jewel Akens, Composer Barry Stuart)
"POLLINATION CELEBRATION AT BILLINGS FARM & MUSEUM"
Learn about bees, butterflies, moths, and more. Explore our Sunflower House in full bloom. On Sunday Trail Break Taps and Tacos food truck will be on site serving a variety of tacos, quesadillas, street corn, chips and salsa, plus a beer garden and refreshing non-alcoholic options from 11:00-4:30
August 29 - September 5, 2023
"DOWN IN THE BOONDOCKS"
(1965 Artist Billy Joe Royal, Composer Joe South)
15th Annual Plymouth Folk & Blues Festival September 1 - 2, 2023
Plymouth's favorite fall tradition will continue with music and fun from across Vermont. .Wagon rides on Saturday; children's crafts and face painting both days. Selected as a "Top 10 Fall Event" by the Vermont Chamber of Commerce. President Calvin Coolidge State Historic Site | Plymouth Notch, VT
Do you smile to tempt a lover "MONA LISA"? Or is this your way to hide a broken heart?
(1961 Artist Nat King Cole, Composers Ray Evans and Jay Livingston)
The Woodstock Art Festival - September 8 and 9, 2023
The Art Festival is sponsored by the Woodstock Area Chamber of Commerce and is a weekend-long event of fine art, music, spirits and food! Over 30 New England artists offer landscapes, portraits, photography and more! Always held on the weekend following Labor Day, Woodstock becomes an art-lovers mecca.
"LIFE IS A HIGHWAY". I want to ride it all night long. If you're going my way. I want to drive it all night long
(1991 Artist Tom Cochrane, Composer Thomas William Cochrane)
Woodstock Triple Crown September 2023 - Suicide Six - 247 Stage Road - South Pomfret, VT - 10 am to 2 pm (exact dates to be determined)
A fun event highlighting 3 awesome mountain bike networks in the Woodstock area! Join fellow riders for this enduro-style race featuring a course that begins with a set loop at the Aqueduct Trails, followed by a pedal to the Mt. Peg Trail Network and a loop there, then a pedal to the final destination, the Suicide Six Bike Park, and a final epic up and downhill loop there!
Awards and food to follow at the Suicide Six Bike Park. Stay tuned for sign up and more at www.suicide6.com The Suicide Six Bike Park is the most recent addition to outdoor recreation in the area! Shred our downhill tracks with berms and jumps, learn new tricks in our skills area and get the little ones out to the strider park on our complimentary bikes. Excellent coaches and world-class rentals will have everyone feeling confident and smiling all day long! Suicide Six is Vermont's most family friendly resort, offering a world class ski and ride school (the longest continually operating program in the country), and diverse terrain with excellent snow-making and grooming.
Make yourself at home in our inviting lodge with fresh farm-to-table fare and hyper-local brews. We look forward to seeing you in 2023!
"TAKE ME HOME, COUNTRY ROADS"
(1971 Artist John Denver, Composer Bill Danoff, Taffy Nivert, John Denver)
MUSIC BY THE RIVER
EVERY FRIDAY BEGINNING JULY 2023 EAST END PARK IN WOODSTOCK - 6:00 until 7:30 Lawn opens at 5:30 pm East End Park 217 Maxham Meadow Way Woodstock, VT 05091
Pentangle Arts is pleased to present our annual Music by the River series of outdoor concerts in July and August. This popular concert series features renowned regional artists whose talents will be showcased in the newly renovated East End Park. Truly a magical setting, this outdoor amphitheater showcases a view of the Ottauquechee River. Thanks to the dedicated efforts of a cadre of volunteers, the East End Park features a beautiful riverfront setting and adjacent hiking trail that serves as an inspiration for repurposing land in a thoughtful, innovative way. The relaxed setting is perfect for music lovers of all ages to come together for a happy summer evening of music, food and friends.
"OL' MAN RIVER" that ol' man river, he don't say nothing but he must know something cause he just keeps rolling, he keeps rolling along...
(1927 Artist Paul Robeson, Composer Oscar Hammerstein II, from the Musical "Showboat")
The Longest Float Trip In Vermont Will Bring Your Summer Tubing Dreams To Life in 2023!
There's no better way to spend a lazy summer day than floating down a beautiful river with your friends. If that sounds appealing, you need to check out this amazing tubing trip that will take you all day… in a good way. River tubing in Vermont is an adventurous and fun way to spend a day!
A float trip with Great River Outfitters is the best way to take in the beauty of the Connecticut River They offer a few different float trip options, but the longest is a whopping six to eight hours on the water. If you feel like that might be a bit much for you, you can also opt for their popular five hour tubing adventure or their short and sweet three hour option.
Here's how it works: The company provides the comfy tubing equipment and you show up with your bathing suit, water-ready shoes, and sunscreen. If you have smaller children in your party, they're welcome to share a tube with a friend or an adult. No experience is necessary! Enjoy a drink or meal on the water with your friends Be sure to bring a floating cooler with you to stow your drinks, snacks, and non-waterproof essentials such as phones and towels. You'll definitely want refreshments if you're spending the whole day on the water, so pack your favorite treats!
This float trip is the ultimate in summer relaxation Along the way, you'll be treated to gorgeous scenery, relaxing sunshine, and the soothing sounds of the river. Summer adventures are available from May 15 to September 15. You'll want to do this epic tubing trip in Vermont again and again and they are located only 20 minutes from the Inn at Clearwater Pond! Make a note to add this float trip to your Vermont summer "fun-things-to-do" list
"RED, RED WINE"
(1967 Artist Neil Diamond 1983 UB40, Composer Neil Diamond)
Wine, Wit and Wisdom - Wine and Cheese Tasting in 2023
Join Woodstock Inn & Resort Executive Chef Rhys Lewis and his wine enthusiasts for interactive, educational, and fun wine tastings! Sample some of the world's wonderful wines, paired with Vermont's Artisan Cheeses. SET IN THE HISTORIC BILLINGS BARN, THESE EVENTS ARE PERFECT FOR A GROUP OF FRIENDS AND FAMILY TO ENJOY TOGETHER! $65+ per person. Must be 21+ Reservations Required From sparkling to reds and sips from famous growing regions, each date features a different wine and cheese pairing. Check back with us for dates and times in 2023
 WILL I SEE YOU TONIGHT ON A "DOWNTOWN TRAIN"
(1989 Artist Rod Stewart, Composer Tom Waits)
29th Annual "Glory Days Festival" - September 2023
Glory Days Festival will celebrate its 28th year as a family oriented, fun-filled, two day festival of the railroading and transportation modes of the past, present & future. Free Admission. Festival events include: excursion train rides, model train show admission, Saturday evening photo shoot, children's games and activities, mini stream engine, a roaming train, live musical entertainment, food vendors, street vendors and engine displays. Saturday excursions offer a 45 minute ride departing on the hour beginning at 10:30 AM and Sunday a 90 minute ride departing at 10:30 AM and 1:30 PM.
Excursion tickets: Purchase tickets the day of at the festival or you can purchase tickets online by visiting – www.hartfordrec.com This event is produced by the Hartford Parks and Recreation Department. Visit our Facebook page: https://www.facebook.com/vtglorydaysfestival/
"FREE BIRD"
(1973 Artist Lynyrd Skynyrd, Composers Allen Collins, Ronnie VanZant)
SPORT OF KINGS DAY AT VINS IN QUECHEE, VT
September 2023
Celebrate this day of Falconry and learn about the history, language and tradition of this 3000-year old practice of hunting alongside a trained raptor. Join VINS for flighted raptor demonstrations
"ELUSIVE BUTTERFLY"
(1966 Artist and Composer Bob Lind)
MONARCH MADNESS AT VINS
September 2023

Join VINS for a morning of all things monarch! Participants will learn how to safely catch butterflies and assist staff with tagging for their fall migration
"TIME FOR ME TO FLY"
(1978 Artist REO Speedwagon, Composer Kevin Cronin)
OWL FESTIVAL AT VINS IN QUECHEE
September 2023 5:30 PM – 8:00 PM / Guided Tours
Gather with live owls from all over the world and discover their life stories
"WHISKEY RIVER"
(1970 Artist Willie Nelson, Composed by Johnny Bush)
Local artisan vendors will be selling their goods in Artisans Park from 1-6pm in September 2023 (exact date to be determined).
SILO will be open for cocktails with live music by Em & Nat on the patio and food available from Artisan Eats. The weekend's market features a host of NEW vendors and some familiar faces. Some of the vendors include: Upper Valley Bagels Green Mountain Macrame Sacred Hound Designs The Miller's Daughter plus many more exciting local makers! Don't miss out on a fun day in September 2022. Grab some food, a cocktail, enjoy the music and shop local! 3 Artisans Way, Windsor VT
"100 BOTTLES OF BEER ON THE WALL" 100 bottles of beer. Take one down and pass it around, 99 bottles of beer....
(Mid-20th Century Folk Song, Artist Jimmie Vestal)
THE VERMONT BREWERS FESTIVAL AND GOLF TOURNAMENT KILLINGTON, VT - SEPTEMBER 2023
Wet your whistle with a backdrop of 4,241 feet of Vermont's finest autumn foliage and enjoy live music, many fabulous food offerings and over 80 of the finest craft beers in the region. Brewfest is one of Killington's most distinctive annual celebrations
"RUN THROUGH THE JUNGLE"
(1970 Artist Creedence Clearwater Revival, Composer John Fogerty)
The 28th Vermont 50 Mountain Bike Or Ultra Run September 2023
The Vermont 50 Race Committee welcomes you to our Mountain Bike or Ultra Run race hosted at Ascutney Outdoors in West Windsor, Vermont. Thank you for being here with us and for supporting Vermont Adaptive . All Vermont 50 participants, crew/spectators and volunteers should realize we are visiting a small community. That community has given us permission to enjoy their piece of Vermont.
I FOUND MY THRILL ON "BLUEBERRY HILL"
(1956 Artist Fats Domino, Composer Al Lewis, Larry Stock, Vincent Rose)
49TH ANNUAL WOODSTOCK APPLES AND CRAFTS ARTISANS FAIR October - COLUMBUS DAY WEEKEND 2023 - 10 am to 5 pm
Located on Route 4 at Bailey's Meadow, just outside of Woodstock Village Leaf season gets its own celebration during the Woodstock Apples and Crafts Artisans Fair. Shop with over 100 vendors and purveyors of Vermont crafts and food. More than 100 juried craftspeople and specialty food producers. Admission $4.00 per person. Children 12 & under are free. Bus groups are welcome. Don't miss this fun weekend - make your plans for October 2023!
"MUSTANG SALLY"
(1965 Artist Wilson Pickett, Composer Mack Rice)
Green Mountain Horse Association 
Team Jumper - Horse Trials - Hunter Pace - Eventing and Dressage Clinics - Dressage Show Days - Driving - Fall Dressage - Hunter Jumper - Competitive Trail and Endurance Ride - Pleasure Trail Rides
GMHA is located in picturesque South Woodstock - Events take place June through October - Visit their website for detailed information on all events for 2023
"It's My Party"
(1963 Artist Leslie Gore, Composed by Wally Gold)
Four of my recent Inn guests, as well as all other invitees, were attending a wedding just down the road. They were all treated to quite an unexpected thrill.. Our local hot-air balloon pilot, Darrek, landed his balloon on the grounds of the Inn at Marshland Farm during the wedding reception. Talk about the sky's the limit...........
"BLACK HORSE AND A CHERRY TREE"
(2004 Artist KT Tunstall, Composer KT Tunstall)
GREEN MOUNTAIN HORSE ASSOCIATION - GMHA - COMPETITIVE TRAIL RIDES IN 2023
 September 2023 Offering a 15 mile CTR, a 40 mile CTR, a 35 mile CTR, a 25 mile CTR, a 2 day 75 mile CTR , a 60 mile CTR and a100 mile CTR
"SHOP AROUND"
(1961 Artist The Miracles, Composer Smokey Robinson and Barry Gordy)
MARKET ON THE GREEN WOODSTOCK
Enjoy Woodstock's Market on the Green, featuring produce, crafts and music. Location at the center of town Every Wednesday, June - October 2023
THE FALLING LEAVES DRIFT BY THE WINDOW THE "AUTUMN LEAVES" OF RED AND GOLD
(1953 Artist Nat King Cole, Composers Joseph Kosma, Johnny Mercer, Jacques Prevert)
AUTUMN FOLIAGE AT ITS VERY BEST IN VERMONT - PLAN ON 2023!
Autumn 2022 arrived and our foliage was absolutely beautiful and breathtaking! If you were unable to visit in 2022 and witness one of earth's most spectacular transformations, be sure to mark your calendars for 2023. So, what is the science behind autumn foliage and why do so many people travel from around the world to witness Vermont's almost-magical transformation? During the spring and summer, the leaves are where most of the foods necessary for the tree's growth are manufactured. Leaves start out yellow when they bloom in spring.
Chlorophyll, the chemical responsible for giving leaves their green appearance and converting light to energy during photosynthesis, dominates the landscape in the spring and summer. But when temperatures change and daylight shortens, the chlorophyll breaks down and reveals the yellow or orange chemicals, known as carotene's, that were there all along. Other leaves produce chemicals called anthocyanins from built-up sugars. These chemicals produce a red pigment that can combine with green pigments left from chlorophyll and display different shades of red. The leaves changing color is tied to environmental cues, day length, and weather. You'll see the leaves change first in the north and at higher elevations, and then the colors work their way south down into the lower elevations. It also reminds us how lucky we are that Vermont has been stewarded by forests and farm owners all these years. We need to give it up for the trees and the people who have stewarded this landscape and kept Vermont forests strong.
That's why Vermont looks the way it does. The red maple is a favorite among foliage seekers, as is the sugar maple. Other trees that put on a nice show during the fall include ash trees, as well as birch, cherry, aspen, tamarack, sumac and red oak Vermont is one of the most heavily forested states in the country and has the highest proportion of maple trees. Vermont is 75 percent forested with 4.46 million acres of forest
"APPLES, PEACHES, PUMPKIN PIE"
(1967 Artist Jay and the Techniques, Composer Maurice Irby, Jr.)
Harvest Celebrations at Billings Farm Woodstock, VT - September and October 2023
Visit their website for weekend dates in September and October 2023 Hands-on programs highlights two essential fall crops - pumpkins and apples. Activities and events include apple tasting, cider pressing, pumpkin bowling, apples-on-a-string, making pumpkin and apple ice cream and cooking apple butter in the farmhouse. This is a fun event for adults and children. Horse drawn wagon rides through the field are offered, as well.
THEY DID THE MASH, IT CAUGHT ON IN A FLASH. THEY DID THE MASH THEY DID THE "MONSTER MASH"
(1962 Artist Bobby "Boris" Pickett, Composer Bobby "Boris" Pickett, Gary Paxton, Lenny Capizzi)
HALLOWEEN 2023
As she climbed the staircase, "it" was no more than a chill in the air. Then a shadowy form appeared above her..........Was this just a figment of her imagination? She closed her eyes; then quickly opened them, hoping the eerie apparition was gone. The shadow remained. Could this really be some mischievous spirit that was quietly floating above her now-trembling body? It appeared to be a man, wearing torn overalls and large, dirty work boots. And now this phantom seemed to be drifting closer. She could feel his presence and tightly closed her eyes once again. When she had the courage to open them, it appeared that the spirit had simply slithered into the walls. Listen, my friends, and you shall hear - chilling tales of ghosts to fear Tewksbury...... Visit us anytime around Halloween 2023 and listen to true and chilling tales of his antics and ghostly apparitions
"TIME FOR ME TO FLY"
(1978 Artist REO Speedwagon, Composer Kevin Cronin)
VINS PRESENTS ITS ANNUAL "HOOTS AND HOWLS" CELEBRATION - OCTOBER 2023 - HOURS 5:30 - 8:00 PM
Join us on a family-friendly guided tour as we visit different fun, non-scary stations around the VINS Nature Center. The Forest Canopy Walk will marvel both big and small as our tour guides lead you through the trees illuminated by jack-o-lanterns. Get ready for a night of costumed fun and spooky intrigue! *General admission from 10 am - 5 pm and event details will be available October 2023
"COME YE THANKFUL PEOPLE, COME"
Raise the song of harvest home. All is safely gathered in. Ere the winters storms begin
(A hymn written in 1844 by Henry Alford, Melody "St. George's Windsor" by George Job Elvey)
THANKSGIVING 2023
Learn about late 19th century Thanksgiving traditions as the Farm & Museum celebrates Thanksgiving Weekend 2023. Discover how Thanksgiving was observed at the Billings Farm with festivity preparations, menu, entertainment, and the demanding work of the harvest.
The event will feature costumed staff demonstrating cooking traditional Thanksgiving fare in the farmhouse, holiday programs, milking the herd, and horse-drawn wagon rides. The operating dairy farm, farm life exhibits, and the tours of the farm manager's house – along with all programs and activities - are included in the entrance fee. Billings Farm is an operating Jersey dairy farm that continues a 146-year tradition of agricultural excellence and offers farm programs and historical exhibits that explore Vermont's rural heritage and values.
The Farm & Museum has served as a gateway to Vermont's rural heritage for over 1.7 million visitors and 340,000 of the region's school children. Open daily April 1 through October 31, 10:00 a.m. to 5:00 p.m., weekends Nov. – Feb., and Christmas & Presidents' weeks, 10-4, The Farm & Museum is located one-half mile north of the Woodstock village green on Vermont Route 12.
"TAKE IT ON THE RUN"
(1980 Artist REO Speedwagon, Composer lead guitarist, Gary Richrath)
THANKSGIVING DAY TURKEY TROT November 2023
Put this special event on your November 2023 calendar The 18th Annual Thanksgiving Day Zack's Place Turkey Trot A 5K Walk or Run which begins and ends at Woodstock Elementary School Awards Ceremony immedi
ately following on the Woodstock Green Handicap Accessible
"LONG TRAIN RUNNIN'"
(1973 Artist The Doobie Brothers, Composer Tom Johnston)
ALL ABOARD THE HARTFORD, VERMONT POLAR EXPRESS DECEMBER 9 and 10, 2023
https://hartfordvtpolarexpress.com/
Enjoy this exciting train ride along a meandering river to the North Pole. Children of all ages will enjoy The Polar Express Story and Holiday Sing-Along while sipping Hot Cocoa with a Homemade Cookie. Santa will board to greet each child and to hand out the first gift of the season - The Polar Express Bell. You can enter a raffle to win an original LIONEL Polar Express Train Set. Raffle Tickets will be available at the station or you may book online.  Please arrive between 30 minutes ahead of your boarding time to allow for parking, ticketing, restroom visits and some holiday fun for the little ones. Visit their website, make your reservations and mark your calendars for December 2023
"HERE WE COME A-WASSAILING"
(1850 Artist Unknown, Recorded by the Robert Shaw Chamber Singers)
Woodstock, Vermont's 39th Annual Wassail Weekend - December 8, 9,10 - 2023
Filled with twinkling lights, Historic decorated homes, Breakfast with Santa, Billings Farm Decorated in 19th century holiday spirit and Sleigh bells, our annual Wassail Weekend is not to be missed! The horse parade through the village of Woodstock on December 9th (2-4 pm) is a weekend highlight.
This weekend appeals to all ages. It's festive and fun and a great way to kick off the holiday season. Visitors come from all over to celebrate one of "Vermont's Top Ten Winter Events" at our country inn. We are located only a few miles from the village center so come enjoy our elegant accommodations and warm hospitality. Now, you ask, just what is "wassail"? Let us give you a little history lesson. The term "wassail" has its roots in medieval England and refers to the Norse, "ves heill", meaning "to drink to the health". Ale, brewed with spiced apples and sugar, was the warm drink given to people who went singing from door to door during the solstice, the darkest days of the year. Thus Christmas became interwoven with these celebrations during the Winter Solstice. The Inn at Clearwater Pond brews its own Wassail. If you missed 2022, be sure to put it on your 2023 December calendar.
VES HEILL!
MAYBE IT'S MUCH TOO EARLY IN THE GAME....AH, BUT I THOUGHT I'D ASK YOU JUST THE SAME..."WHAT ARE YOU DOING NEW YEAR'S EVE, NEW YEAR'S EVE?"
(1947 Artist Ella Fitzgerald, Composer Frank Loesser)
NEW YEAR'S EVE 2024
Be sure to make your bed and breakfast reservations early. The Inn at Clearwater Pond will be geared up and ready to welcome guests to our home. We will be brewing our own recipe for Wassail - and it is delicious and perfect for this festive holiday weekend. We are conveniently located under 15 minutes from the village center 802-295-0606
"LET IT SNOW, LET IT SNOW, LET IT SNOW"
(1945 Artist Dean Martin, Composer Sammy Cohn, Jule Styne)
The Vermont Snow Sculpture Festival and Competition in 2024
takes place January 2024 at Suicide Six, 247 Stage Road, South Pomfret. Stop by and enjoy the intricate snow sculpture designs. Spectators can watch the artists at work and browse the final sculpture results. Each team will then vote on the winner and they will ultimately go on to compete in the U.S. National Snow Sculpting Competition in Lake Geneva, Wisconsin
"FISHIN' IN THE DARK"
(1987 Nitty Gritty Dirt Band)
21st Annual Deweys Pond Ice Fishing Derby
February 2024
7:30 am - Noon
Ages 6 and under to age 14
Deweys Mills Pond Road
https://hartfordvt.myrec.com/info/facilities/details.aspx?FacilityID=14768
C'MON BABY, "LIGHT MY FIRE"
(1966 Artist The Doors, Composer Jim Morrison, Robby Krueger, John Densmore)
Presidents Day Weekend 2024 - Two Torchlight Parades and Fireworks
In February of 2024, just after dusk, Suicide Six Ski Mountain (now referred to as Saskadena Six) will be ablaze with glowing red torches.  The skiers will impress us as they slowly venture down the mountain, then onto the chairlift for a second run. Spectators will also be able to enjoy a second torchlight parade and fireworks at the Quechee Club the following night.  Be sure to join us for these two fun events. Suicide Six - Pomfret, VT and the Quechee Club - Quechee, VT February 2024
Bright are the stars that shine. Dark is the sky. I know this love of mine will never die.
"AND I LOVE HER"
(1964 Artist The Beatles, Composer Paul McCartney and John Lennon)
Valentine's Day and Presidents Day at our Inn - February 2024
Join us February 2024. On Valentine's Day you probably either sent or received a valentine from someone. More than a billion are expected to be given away in the United States alone. But just like many of our holidays, there's a lot more behind it than just cards and gifts.
There's a true-life story. It's a story that teaches us a lot about love, sacrifice and commitment - the true meaning of Valentine's Day. In the third century the Roman empire was ruled by Emperor Claudius 11 Gothicus. He was nicknamed Claudius the Cruel because of his harsh leadership and his tendency for getting into wars and abusing his people. In fact, he was getting into so many wars during the third century that he was having a difficult time recruiting enough soldiers. Claudius believed that recruitment for the army was down because Roman men did not want to leave their loves or families behind. So, he cancelled all marriages and engagements in Rome. Thousands of couples saw their hopes of matrimony dashed by the single act of a tyrant. And no one seemed interested in standing up to the emperor. But a simple Christian priest named Valentine did come forward and stood up for love. He began to secretly marry soldiers before they went off to war, despite the emperor's orders. In 269 A.D., Emperor Claudius found out about the secret ceremonies. He had Valentine thrown into prison and deemed that he would be put to death.
As Valentine was awaiting execution, he fell in love with a blind girl who happened to be the jailer's daughter. On the eve of his execution, with no writing instruments available, Valentine is said to have written her a sonnet in ink that he squeezed from violets. Legend has it that his words made the blind woman see again. It was a brief romance because the next day Valentine was clubbed to death by Roman executioners. St. Valentine gave his life so that young couples could be bonded together in holy matrimony. They may have killed the man, but not his spirit. Even centuries after his death, the story of Valentine's self-sacrificing commitment to love was legendary in Rome. Eventually, he was granted sainthood and the Catholic Church decided to create a feast in his honor. They picked February 14 as the day of celebration because of the ancient belief that birds (particularly lovebirds, but also owls and doves) began to mate on that very day. And so, on the next Valentine's Day 2023, what are you doing to keep the love-light burning? Well - the Inn at Clearwater Pond is just the place to celebrate and we know how to do it up just right.
Think ROMANCE and give us a call or send us an email and we'll reserve a room just for you and your special valentine - February 14, 2024
And finally - listed below are a few of our favorite local restaurants
"EVERY LITTLE THING SHE DOES IS MAGIC"
(1981 The Police, Composed in 1976 by Sting)
ELIXIR
Elixir Restaurant is located in the old Freight House in Downtown Historic White River Junction, Vermont. Their menu features creative, approachable food, freshly prepared using local ingredients. The wine list complements the food and will satisfy a variety of tastes Whether you simply want to relax with a glass of wine or enjoy dinner from their ever-changing menu, this very popular restaurants offers a warm, inviting atmosphere with friendly service. Open Wednesday through Saturday Seating from 5 pm to 8 pm - Reservations Required - 802-281-7009
"Strawberry Fields Forever"
(1967 Artist The Beatles, Composers Paul McCartney, John Lennon, George Harrison)
The Prince and Pauper Woodstock VT - 802-457-1818
The Prince & The Pauper restaurant has been delighting guests with superb food, creative cocktails, and impeccable service for over 47 years. Our menu features inspired dishes from classic to contemporary; handcrafted from the freshest ingredients available. Whether it's a special celebration, a romantic evening, or a friends' night out, we invite you to join us for one of Vermont's premier dining experiences. Our charming, historic restaurant is located in the center of picturesque Woodstock Village Our seating times are from 5:00 to 8:00 pm, Tuesday through Saturday. Reservations are required Limited seating at our small, antique bar is available by reservation We offer two separate menus for your enjoyment - our three-course Prix Fixe and our Bistro Menu
"JAMMIN"
(1977 Artist and Composer Bob Marley & The Wailers)
Melaza Bistro
is like no other restaurant in Vermont. They are located in Woodstock and provide all guests with a casual fine dining experience 
Melaza offers classic New England cuisine blends with the subtle flavors of the Tropics
Enjoy Melaza's relaxed and refined atmosphere, featuring outdoor seating on the front patio and back terrace. A nice bar atmosphere as well. 802-457-7467
"ANOTHER ONE BITES THE DUST"
(1979 Artists Freddie Mercury, Brian May, Roger Taylor, John Deacon, better known as Queen, Composer John Deacon)
Dr. Coburn's Tonic
Located in the heart of beautiful Woodstock you will find Dr. Coburn's Tonic. They serve great American food and creative craft cocktails in an eclectic setting. If you are looking for a perfect place for date night, a friend's night out or a casual family dinner, look no further! On their menu you will find tried and true classic dishes. A customer favorite is the Coburn Burger. They also offer seasonally shifting craft cocktails and specials. Dr. Coburn's Tonic is a tourist destination and a favorite local hangout
802-457-7184
"Come Away With Me"
(2002 Artist and Composer Norah Jones)
Richardson's Tavern at the Woodstock Inn
 The essence of Vermont and flavor-driven plates are paired with an inviting bar featuring local craft brews and spirits. The atmosphere is warm and relaxing and a favorite with the locals. Dine al fresco on the porch in the warmer months or sink into the oversized lounge chairs fireside for a casual drink or meal. Pair your meal with hand-selected wines by the bottle - 802-457-6671
WHEN I WAS A YOUNG MAN I'D NEVER BEEN KISSED; I GOT TO THINKING ABOUT WHAT I HAD MISSED. I FOUND A GIRL. I KISSED HER AND THEN...OH LORD, I KISSED HER AGAIN BECAUSE SHE HAD
"KISSES SWEETER THAN WINE"
(1957 Artist Jimmie Rogers, Composer The Weavers)
Greetings from Mangalitsa!
A Dining Experience In The Quechee/Woodstock Area The objective at Mangalitsa is to offer a complete dining experience where hospitality and cuisine work hand in hand. Their standard for sourcing the many ingredients that find their home on their menu is simple: local. By relying on their extensive network of small producers in the Upper Valley and cultivating relationships, they can offer an ever-changing, seasonal variety of small plates and shared entrees, served a la carte or prefix and accompanied by a unique wine and beer list and house cocktails.
Keep checking back with us as we continue to post upcoming local events and dining experiences...and there will be plenty
 Inn at Clearwater Pond, 984 Quechee-Hartland Road, Quechee, Vermont 802-295-0606 © Copyright Inn at Clearwater Pond | Physical Address: 984 Quechee-Hartland Road, Quechee, VT | Mailing Address: 984 Quechee Hartland Road, White River Junction, VT 05001 | Several photographs courtesy of Shawn Braley Photography and Alex Montano
© Copyright Inn at Clearwater Pond | Physical Address: 984 Quechee-Hartland Road, Quechee, VT | Mailing Address:  984 Quechee Hartland Road, White River Junction, VT 05001 | Several photographs courtesy of Shawn Braley Photography and Alex Montano